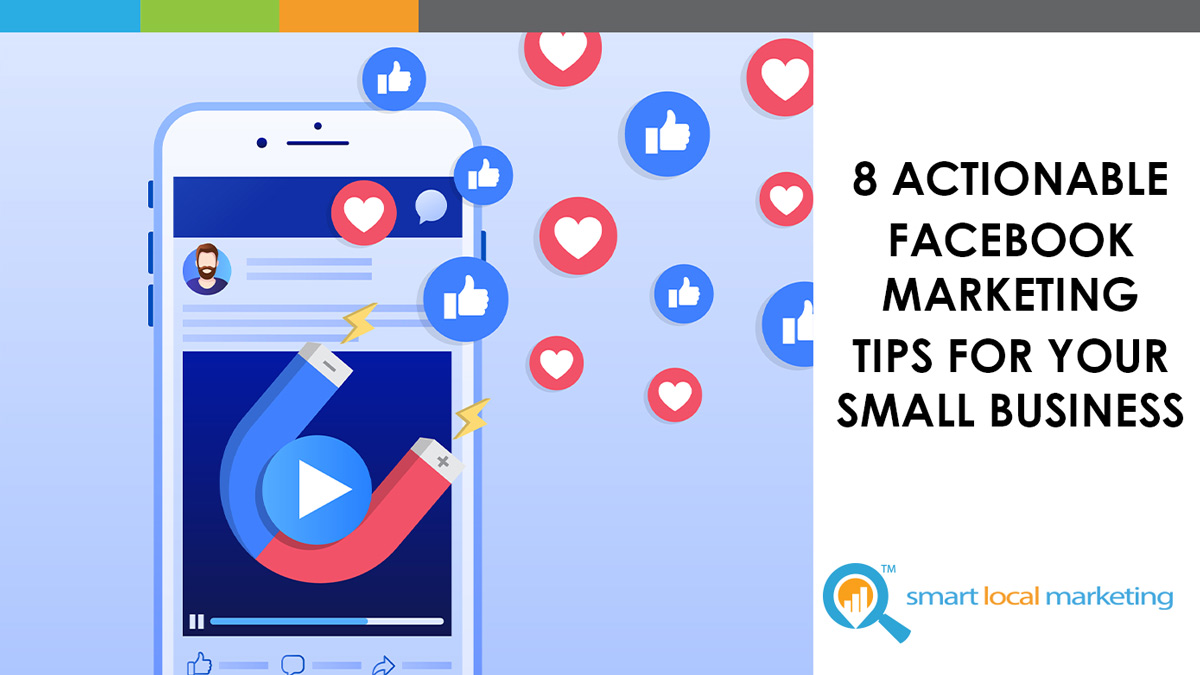 With over 190 million users in the United States alone, Facebook is still a force to be reckoned with for marketing. Despite some high-profile problems in recent years, Facebook is still a viable tool for businesses of all sizes, and its influence and reach will only continue to spread. 
However, while Facebook can be a potential gold mine for your company, you have to know how to utilize it effectively. Too many businesses don't know how to maximize their outreach, so they struggle to find an audience. Fortunately, with these eight actionable Facebook marketing tips for your small business, you won't be one of them. 
1. Post with a Clear Goal in Mind
One of the most significant errors that small companies make is to post randomly and hope that something will stick. While we've all seen posts that have gone "viral," the fact is that it takes time to build traction on any social platform, including Facebook. A single post won't make a splash, but a single marketing campaign can. 
So, before you put anything onto your followers' feeds, you should have a clear goal in mind. Do you want to increase brand awareness? Do you want to sell a particular product? Whatever the goal is, make sure that your posts are targeted toward that goal. Also, keep in mind that you can run multiple campaigns at once, so be specific with each one. 
2. Don't "Sell" on Facebook
At first, this tip may seem counterintuitive since the whole point of having a Facebook profile is to market to new customers. However, these days, consumers are savvier than decades past, and they gloss over most ads without paying attention to the content. 
So, if you want to stand out, you actually have to blend in. Rather than flashy posts that look like they're straight out of a Sunday coupon saver, utilize more subtle tactics. Post pictures and videos that people may like on their own, then put a call to action in the text. Ads don't draw people in – exciting content does. Use that to your advantage. 
See how iOS 14 is Impacting Your Facebook Ads Campaign on Apple devices
3. Maximize Your Facebook Profile
We could write a whole article about setting up and optimizing your Facebook profile since there are so many details to cover. However, in basic terms, here's what you should do for your profile: 
Fill in All Pertinent Details

 – Don't leave any form unfilled when editing your profile. You should have all contact information and links ready to go so that customers can get this information quickly and easily. If you're a brick-and-mortar establishment, be sure to list your phone number, address, and hours of operation. 

Use Captivating Profile Images

 – Your profile picture and header are the first things that customers will see, so they should be bold and exciting. Also, feel free to change up your header based on your current campaign to create a more cohesive marketing strategy. 

Utilize Keyword

s – In some cases, your Facebook page may come up before your website in searches. By optimizing for specific keywords, you can expand your reach and ensure that more people find out who you are and what you do. 
4. Use a Posting Calendar to Stay on Top of Content
Another primary issue that most small businesses have with social media marketing is consistency. If you have to manually log into your Facebook account and post images or text, you'll wind up with an erratic posting schedule that can't build any momentum. Updating your feed by yourself is a full-time job, and you have plenty of other things to do to keep your business running, so don't make this potentially costly Facebook marketing mistake.
Fortunately, multiple posting programs enable you to stay on top of your marketing campaign without spending too much time on it. These platforms allow you to schedule posts ahead of time so that you can let a campaign run automatically. Consistent marketing will get a lot more traction than posting whenever you have a spare moment. 
5. Use Stories and Live Posts
When marketing your business, you need to create a brand story that will captivate new customers. What is your mission statement, and what can you offer? Facebook stories and Live events allow you to control your message and deliver it in a fun and exciting way. 
If you're unfamiliar with these terms, Stories refers to a video feed that updates daily. If you post a clip on there, it will be gone within 24 hours. Facebook Live allows you to schedule an event and share it through your feed. Followers can like and comment in real-time, giving you valuable insight and feedback into how well your event is going. Live events are perfect for interacting with your customers directly, while Stories allows you to share behind-the-scenes footage. 
6. Post Video Content
While Stories and Live events are valuable, they're also time sensitive. Video content can stay on your feed forever, tantalizing new followers and profile visitors. Facebook makes it easy to embed video content to auto-plays on a user's feed (unless they turn it off). Since video marketing is far more captivating than still images and text, you can get a lot more traction. 
Keep in mind that most videos on Facebook will begin to play with the sound off, so you need to plan your content accordingly. Utilize captions and make sure that your content isn't too hard to follow visually. 
7. Create and Manage a Community Page or Facebook Group
Social media is all about bringing people together, and you can facilitate that by creating a community page or Facebook Group. In fact, this is such a powerful way to reach your audience, it's one of our 6 Tips to Boost Your Organic Facebook Reach.
That said, don't make it obvious that the group is designed to help you market your business. Otherwise, no one will sign up. Instead, create a group related to your industry and use it as a means of generating interest and positioning your company as an authority. For example, if you sell baby clothes, you can create a parenting group that shares tips and tricks on raising kids. Over time, the discussions will naturally lead to your products, even though you aren't selling to the group directly. 
8. Be Strategic About Boosted Posts
Facebook ads allow you to broaden your reach and find new followers and customers. Boosted posts are kind of like ads, except you're highlighting a specific post rather than creating a unique ad. This strategy can help immensely if you're strategic about it. Just because you can boost a post doesn't mean you should. Follow these tactics instead: 
Boost Quality Content 

– If a post is already getting a lot of engagement, it means that it will likely resonate more with a new audience. If your post only has a few likes or comments, boosting it probably won't help too much. 

Have a Call to Action

 – Boosting costs money, so you want to get a decent return. Don't boost random content – instead, boost posts with a specific CTA for users to follow. 
Let BizIQ Help With Help Managing Your Facebook Business Page
Knowing these strategies is one thing; implementing them is another. If you're lost when trying to manage your Facebook page or advertise on Facebook, let the pros help. 
Contact us today at (888) 416-8900 and let's get started!