Branding, your brand identity, and company logo have a symbiotic relationship with each other. Combined, they create your business' public presence and character.
Although each one of these components plays a unique and different role, they all work together. When you develop all three of these items adequately, they create a strong brand that helps define, attract, and sustain existing customers and new customers.
What is a Brand?
Not sure what a "brand" is? Allow us to explain… three different ways!
Definition 1: A Brand is an Organization's Company Identity
It's a combination of words, designs, signs, and symbols that come together to create an image that represents an organization or product and separates it from the competition.
Definition 2: A Brand is How Others Recognize & Remember Your Business
It's also the combined outcome of perceptions, ideas, and emotions that people have about a business. Simply put, it's what people think of your organization. However, a brand encompasses more than just perceptions regarding a company.
Definition 3: A Brand is Made Up of Tangible Actions & Things that You Create to Represent Your Organization
It's an active perception of a business that is either maintained or weakened over time. It's based on the result of many purposeful actions. Logo's, signs, stationery, uniforms, and even vehicle wraps are the outward physical manifestations or elements of your brand.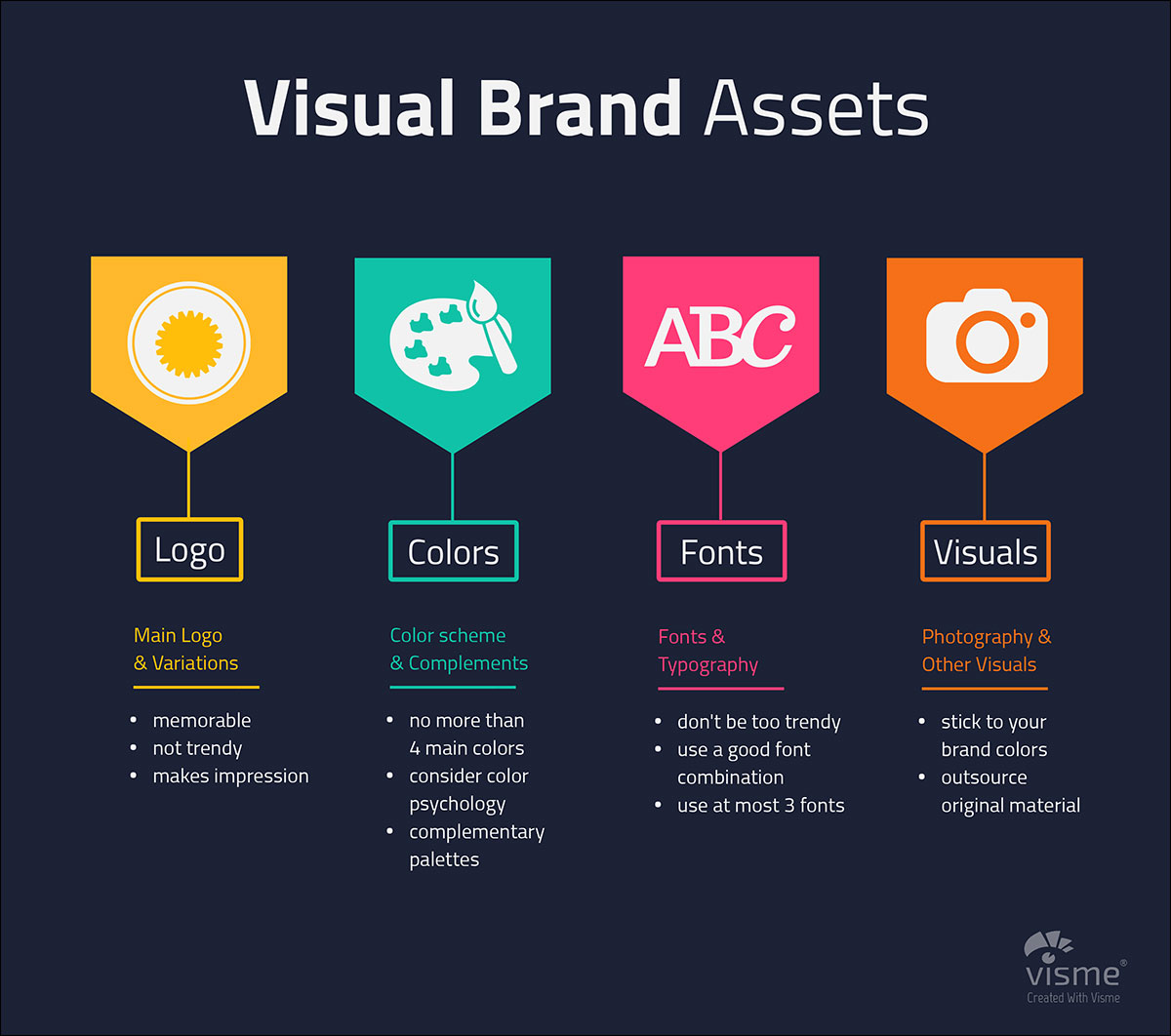 Source: visme.co
In essence, these are the symbols, text, color scheme, and images that depict your brand. They include your fonts, advertising style, and even your brand guidelines. These are the styles and approaches that signify and represent your company's personality and shape customer perceptions of your business.
However, none of the above are a brand.
What a Brand Isn't
There's much confusion surrounding what a brand is and is not. However, several things can help clear up any confusion regarding this.
A brand is not a business name, title, positioning, or a tagline. It's not even your logo.
Logically speaking, it also makes sense to assume that it's not your business cards, product packaging, or even your website.
However, all these elements are major players and building blocks in building a brand identity. Furthermore, many of these components play a part in developing a brand strategy.
What is Branding?
Branding is the action that a business owner takes towards creating a consistent and stable perception and image of your organization.
Essentially, these are the steps that you need to take to create an outward image or perception. These actions create your brand, which is how people perceive your business. When you begin the process of creating a highly recognizable brand, you take purposeful steps to shape perceptions regarding your company.
The branding process includes steps to guide and shape impressions and perceptions of your business through exposure, awareness, and reputation. This intermingling of experiences, feelings, and opinions come together to create your brand. The collective actions of your organization, from how you tweet and send emails, to your products and services, are also components of it.
Deliberate & Repetitive Actions Help Build Your Brand
When you sit down and make plans regarding your brand, you consider the impact and impressions you want to create. You also discuss your goals and how you want those goals to translate into your brand personality.
These are all focus areas that carry a lot of weight and consideration when it comes to creating and sustaining a strong brand. They are the energy and power that fuels how your company conducts its business.
Branding Gives Birth to Brand Identity
The efforts of the branding process create your brand identity. And just like your personality, it's what makes your business unique.
That identity includes both tangible and intangible things like your logo, business colors, typography, and even your company voice.
The goal of any company is to make their organization highly recognizable through many different actions, both physical and non-physical. Companies want to have a distinct, easily recognized presence that separates them from other companies.
Both physical and non-physical components create a company's brand identity.For example, consider the impact and recognizability that Target has when it comes to everything from groceries to clothing to home goods at an affordable price. Target's logo, company colors, and messaging create their strong brand identity and make them instantly recognizable to the public.
Their logo is nothing but a simple, red and white target made up of three circles. Their iconic logo, combined with their friendly, simple approach is evident in Target's web presence as well as it's retail stores.
What is a Brand Logo & Why is it Important?
A logo is a design or symbol used to identify your company or organization.
You typically find an organization's logo on its products, uniforms, vehicles, letterhead, and anything tangible an organization may use or promote. It can include designs, monograms, symbols, and colors; as well as many other graphics.
Logos are vital because they visually differentiate and distinguish a business. A company logo is an essential element of your brand because it is the face of your business.
A strong logo commands attention, makes a memorable impression, differentiates your business from other companies, and is the ground floor of your visual branding.
What Constitutes a Logo?
Logos can be composed of:
Figures
Stamps
Insignias
Crest
Seal
Coat of arms
Badge
Motif
Hallmark
Colophon
Trademarks
Emblems
Signs
Marks
Keep in mind: A logo is neither your brand nor brand identity, but rather an element of both.
Creating a logo is one of the more critical elements in the branding process. Branding helps you create your brand presence, and your logo is the visual representation of that presence.


Source: visme.co
Branding, Brand Identity & Logo Design Fit Together Like Pieces of a Puzzle
Branding is the process of creating your brand. A logo plays a significant role in shaping the outward manifestation of your business' public image.
Brand identity is all the elements, both physical and non-physical, that represent your brand. All three aspects are a significant and powerful part of differentiating your organization from the competition and creating a significant presence.
Ready to Learn More?
Interested in learning more about how logo design and branding go hand-and-hand? You may be interested in reading our article on cheap logos to see if a $50 logo is really worth it. If you have questions about branding, reach out to our team for help. We're experts in small business marketing and have helped thousands of companies just like yours to stand out in a crowd.
Don't forget to subscribe to the BizIQ for more small business marketing tips and strategies delivered right to your inbox.