When operating and marketing your roofing business, finding leads can be a major challenge. Luckily, there are multiple ideas you can implement to ensure a steady flow of new clients and leads to expanding your business. 
If you focus on the following information over the long-term to generate a positive reputation, you can reach the goal of year-round replacement, repair, and inspection roofing jobs with a constantly ringing phone and full email inbox!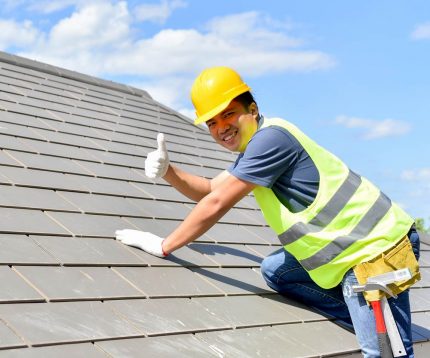 Importance of Digital Marketing for Roofing Companies
Marketing is an intriguing topic for roofing companies since it is not a product or service you need regularly. Therefore, getting your company in front of new clients is tricky since they rarely need what you offer. 
Don't fret, the good news is they need your services, and, in many instances, it is urgent. While using this strategy for some clients is acceptable, it will not help your company grow. Therefore, digital advertising can reach a wider customer base that requires your services.
Roofing companies need digital advertising to help reach the maximum number of potential consumers. Digital marketing is less expensive than traditional methods and provides extensive and measurable data, so you know how different campaigns are performing. From that information, you can then adjust, to improve a campaign, or scrap it altogether, very efficient.
Top 9 Roofing Marketing Ideas
The best options to increase your customer base through new leads and jobs is to take advantage of the following nine roofing marketing ideas:
One: Acquire and Display Real Reviews
When you complete a job for a customer, always request that they provide a review on Angie's List, Google My Business, Yelp, or your social media page. In addition to building consumer confidence, positive reviews will improve your search engine rankings.
Two: Become Customer-Ready Online


Most customers search for services online before deciding. This means they will be reviewing your social media account and website while reading reviews from other sources about your company. Therefore, you must have a website to ensure they can find your information.

Three: Dominate Local Searches


Once you have a website customer-ready then it must follow search engine optimization best practices to ensure your company can be found. Finding the best keywords will give you the best shot at appearing in local searches for roofing services. Make sure to complete your Google Business listing and link it to your website.

Four: Engage in Local Networking


Networking is still an excellent word-of-mouth advertising option. By joining the local Chamber of Commerce and attending local meetups, you can become the authoritative company in town. Focus on property managers and real estate agents who may regularly need your services.

Five: Highlight Your Portfolio


Ensure you are showcasing your portfolio online with real and high-quality photos of your recent work so potential customers can see your quality. The best places to do this are social media, Yelp, Google, and by keeping your website updated.

Six: Offer Free Estimates


Offering free estimates and roof inspections is a great way to start a new business relationship and put your company at the forefront of their current and future roofing considerations.

Seven: Populate Local Profiles


Many customers utilize sites like Yelp to find contractors, so your profile must be complete and engaging. This helps customers find you and improves your search engine ranks when backlinking from your website.

Eight: Request Referrals


Reaching out to your past customers and local network for referrals is a great way to market your company and drum up new business.

Nine: Sponsor Local Events


Have you ever noticed local sponsors advertising at an event? This is an excellent way to advertise in the local community to ensure every attendee knows the name of your company. Sponsorship through advertising helps give back to your local community which potential clients appreciate.
Real-Life Examples of Great Roofing Marketing Ideas
With generating roofing leads being such a challenge, it is useful to mention a few ideas with proven success, including:
Create an Outstanding Website
Building a spectacular and informative website will differentiate you from the component. Websites that are fast, easy-to-navigate, mobile-optimized, secure, clean, and contain high-quality visuals with a call-to-action will provide success.
Experiment with Written Content
Content traverses blogging so to improve sales you want to find different methods of attracting new leads through written content. A few effective ideas include a guide on material selection, a press release highlighting your awards, an e-book on the solar installation process, and a guest post on a community website.
Go Beyond the Basic Visuals
Video marketing has proven success as a straightforward option for learning about your products and services. Videos help to build trust with the consumer, highlight your authority, and provide continued engagement across social channels.
More Face Time
Facetime is always important when selling a product or service. This can range from attending local meetups and fairs to partnering with influencers and launching Facebook Live videos.
Utilize New Technology
Virtual reality demos and chatbots are just a few of the many types of new technology available to test. Find a technology that increases engagement and improves roof sales. Do not dive-in headfirst with numerous high-tech components if you do not know how to use them. Instead, learn about the options and test them out to see what works.
3 Ideas for Commercial Roofers
Regardless if your commercial roofing business is busting or booming, having additional clients is not a bad thing. Follow these three ideas to help get there:
Answer Questions
While this sounds simple, many business owners do not do this: answer questions on their website. When a customer posts a question on your website and you do not answer, you lose credibility and engagement with that customer. To get ahead, you can create a blog post answering the most common questions.
Provide a Personal Touch
Word of mouth advertising is always a gold mine since the information is being provided first-hand from a friend or family member. Therefore, implementing a personal touch makes new customers have an emotional connection with your company. One effective way to do this is to make a friendly phone call to all who have requested estimates just to thank them for the opportunity.
Optimize Your Website
Your goal is to generate as many quality leads as possible with internet marketing. This means optimizing your website to ensure it is functional, professional, updated, and simple to use. You want to convert visitors looking for more information into leads.
8 Expert Tips to Improve Your Online Marketing Presence
The Internet is jam-packed with businesses using antiquated strategies to differentiate. However, outside-the-box thinking with these eight strategies will put you above the competition:
Concentrate on networking.

Focus content on meaningful topics that your audience wants to read.

Generate valuable and relevant content.

Implement video marketing.

Make your website responsive for use on all devices.

Maximize the user's experience.

Secure customer information.

Utilize high-quality images.
There are plenty of accessible digital advertising tools available for companies with a variety of skills and backgrounds. Working on different ideas will improve your understanding of your clients and business while learning new skills. If you begin without a plan, online marketing can become an overwhelming and cumbersome task. However, by keeping an open mind and learning the basics, you can greatly improve your roofing business!