Have you heard about the latest feature from Google known as Google Posts? If not and you're the owner, manager or marketer of a small business, you may want to get up to speed as it could be useful to local businesses in particular.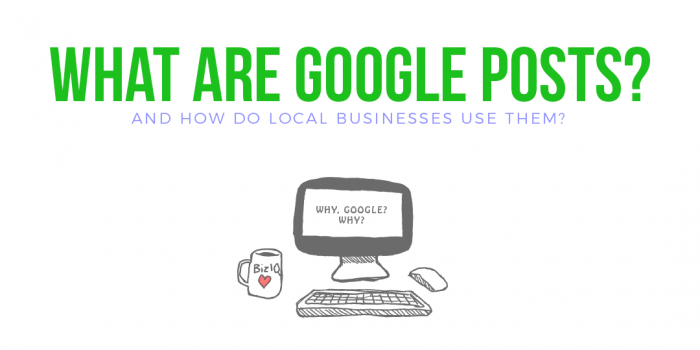 While the feature has not been given an official name just yet, it was dubbed Google Posts by the folks at Search Engine Land, and the name fits. This new feature allows businesses with a verified Google My Business listing to share content directly to Google's search results from within the Google My Business dashboard. This feature is brand new and was only recently made available to a wider variety of businesses.
Here's what we know so far.
What kinds of businesses can use Google Posts?
Previously open only to presidential candidates, Brazilian pop stars and a few select test businesses – not exactly an inclusive group – Google Posts is now open to businesses with a verified Google My Business profile. That means that the majority of businesses who may find this feature useful are the local business set. That's great news as Google Posts provides a convenient new way for businesses to display important information prominently in search results.
What kind of content can be shared using Google Posts?
Google Posts lends itself well to posts featuring special events, time limited deals, or just about any other information a small business might want to draw extra attention to. It can even be used to promote newsletter sign ups or drive traffic to your blog or another high converting landing page.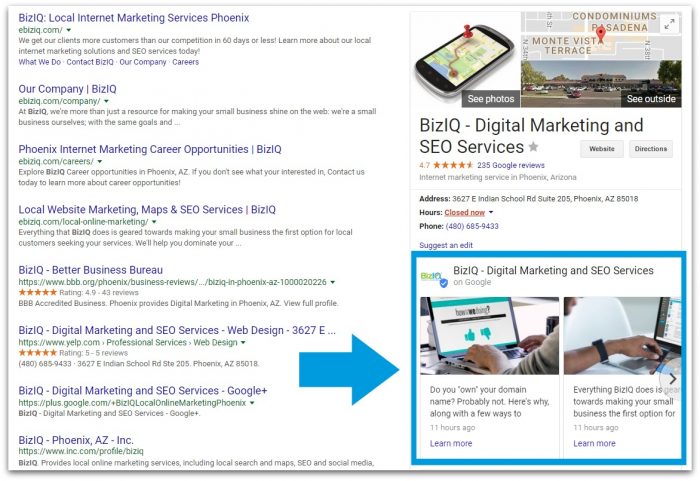 What Can I Include With a Post to Google?
Each Google Post provides room for a 100-300 word update, a featured photo, a call to action button, and the ability to create an event post with a start and end date and time. The minimum size for the photo appears to be 240 x 240 pixels. A square photo is displayed in the expanded post, with a rectangular thumbnail being displayed in the actual search results. Because the rectangular thumbnail is most visible, you'll want to plan you graphics accordingly.
Will using Google Posts increase my search engine rankings?
Like many aspects of this new feature, the real benefit remains to be seen. It's unclear whether businesses will experience any significant increase in search engine rankings as a result of using this feature. At the very least, however, it offers local businesses a way to gain valuable visual real estate in search results wherever their business does appear, and to offer searchers relevant links to follow, and that's always a good thing!
Are Google Posts the Same as Google+ Posts?
In short, no. Google Posts are linked directly to a business' Google My Business profile, which has long since been distanced from the Google+ profiles that we used to know and love (well, that some of us used to know and love at least) The main difference is the post's prominence on Google's search engine results page. As you can see from the photo above, Google Posts draw the eye to a business' Google My Business listing, and increase the visual real estate of the listing itself.
We'll keep you updated on new developments via this post as we continue to experiment with this cool new feature. In the meantime, if you've tried using Google Posts in your local business, share your experience in the comments!