One of the best things a small business can do to promote its services or products online is to invest in SEO. SEO (search engine optimization) is defined as practices that help web pages improve their appearance and positioning in organic search results. Therefore, as a business owner, you should know what SEO practices and strategies to use to help your business grow. In this guide, we will cover the best local SEO strategies that will be effective and beneficial for your small business in 2023.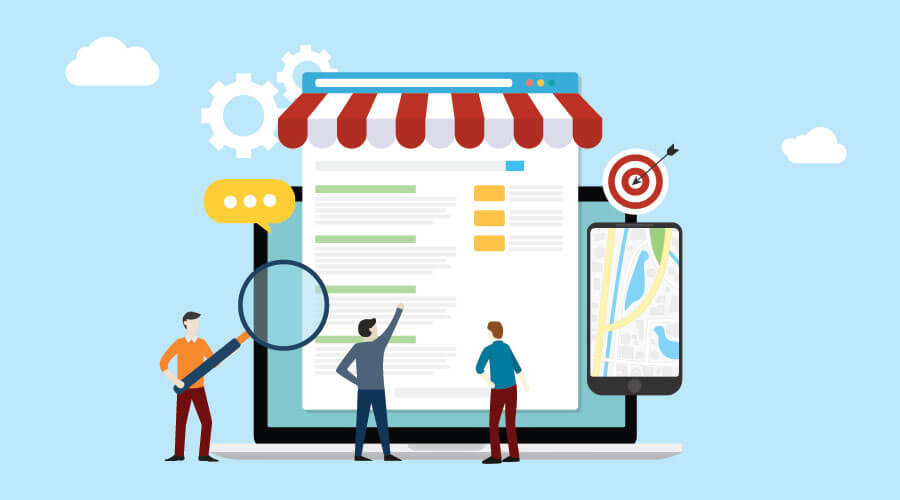 The Best Strategies for Businesses in 2023
Here is a list of strategies you should consider applying in the upcoming year to make your marketing strategy more effective:
1. Use Google My Business
One of the critical components of a local SEO strategy is having a Google My Business profile. Google My Business is a perfect tool if you want your business to meet Google's needs. However, creating a Google My Business page is not enough. You also need to optimize it, and here is a list of steps to do it:
Fill in the description of your business. Your description can be up to 750 characters, so maximize your description as best as possible.
Always update your business hours. You need to let people know when your business is open so they can reach out to you. You can update your business hours at any time.
Choose proper business categories. You can add up to 10 business categories, including a primary one. For example, if your business is a seafood restaurant, your primary category is probably "seafood restaurant", while the secondary category can be "seafood delivery".
Verify your location. If you want to attract local customers, you should verify the exact location of your business. Also, without location verification, you will not be able to use all Google Business Profile features.
2. Create a Mobile-friendly Website
Today, people use smartphones more often than computers and laptops. The number of smartphone users is constantly growing and will be even higher in 2023. People prefer using their smartphones for surfing the Internet and social media rather than PCs and laptops because it is faster, easier, and more convenient. Therefore, creating a mobile-friendly website for your local business is not just an advantage; it is a necessity. When creating a website, always pay attention to two main things – its web design and website loading speed. Visitors will leave it immediately if it takes more than 5-10 seconds for your website to load.
3. Use Social Media
Social media is very powerful when it comes to online marketing and converting leads into sales. The best and most popular social media networks for your small and local business are Facebook, Instagram, Twitter, Pinterest, and LinkedIn. Here is what you can do to use social media effectively:
Post quality and engaging content. Use social media platforms to tell users about your products and services. If there are any stories from customers about using your product and services, share them with your audience. Post different types of content, including text, photos, videos, and audio.
Work with influencers. Social media influencers are an essential part of social media marketing today. They have local audiences, who value their opinions, so it is a good idea to use them to promote your business, regardless of the industry. Using influencers is an effective organic social media marketing strategy that helps you build and improve your brand awareness.
Social media advertising. Using social media advertising is another effective tool that many people forget about. There are many types and forms of it, including video ads, lead generation leads, and others. It is recommended to analyze your targeted audience first to understand what social networks they use more often.
4. Set up Google Analytics
If you have never used Google Analytics before, it is time to start doing it. Google Analytics has many benefits. First of all, it is free to use. Second, it gives you insight into where visitors to your website come from, what pages they are clicking, and what they were searching for before finding your website. If you analyze the data from Google Analytics regularly and correctly, you will know what areas of your marketing strategy you need to improve or change.
5. Create Quality Content
Creating quality local content that you post on your website or blog is an excellent way to promote your small business and help it grow. There are various types of content you can post. It can be an article, blog post, or static webpage. You can use your content to highlight specific events, local offerings, or simply tell people more about your brand, products, or services. You should ensure that the content you post on your website or blog is natural because it will be easier for you to target keywords. With the help of quality content, you can establish yourself as an expert in your industry, which will help you compete against other similar businesses.
BizIQ – We Will Help You Develop an Effective Marketing Plan for Your Small Business
If you are entirely new to SEO and marketing or do not have time to work on your marketing strategies, BizIQ is a company with years of experience in SEO that is ready to help you. We are located in Phoenix, AZ, and we know everything about marketing strategies. Our mission is to help small businesses shine, and we have already helped over 26,000 local businesses in different industries.
Our services include SEO, PPC advertising, local brand management, website design, Ecommerce, and others. If you have any questions or want more detailed information about our services, please visit our website or reach out to us.