Imagine you and your spouse or a friend are trying to decide where to go for dinner so you go online and find a restaurant with great reviews, so you drive to the address on Google or another search engine, only to discover the restaurant isn't there.
Alternatively, you could be searching for a plumber to fix a pipe that's just burst and pull out your phone to search for one. When you call the number in the online listing, it's been disconnected. Frustrating isn't it?
Now imagine customers with a problem your business can solve having the same experience when they find your business online. How much will they trust your business if they find inaccurate or inconsistent information in your online listings?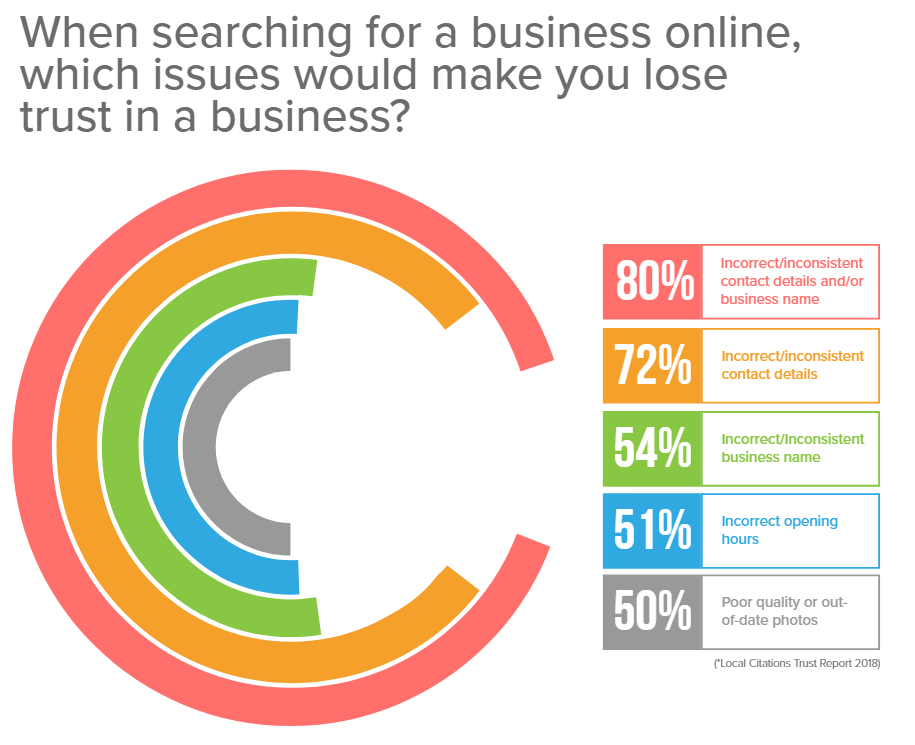 80% of consumers say incorrect or inconsistent details and/or business name online would make them lose trust in your business.
A recently released Local Citations Trust Report is chock full of some pretty sobering statistics on why you need to ensure local citations like your Google My Business listing are consistent, accurate, and up to date. And your listings go beyond contact details and business name because, besides inconsistencies in contact info, 51% of people say incorrect hours would make them lose trust in your business and 50% of consumers wouldn't trust you if your listing has poor or out-of-date photos. And if you think these are just hypothetical experiences and not common, think again.
When asked which issues they've run into in the last year 36% of consumers called a wrong phone number for a business and 22% visited the wrong location because of what was listed online.
Interesting, those are the exact same examples we mentioned at the beginning of this post. And in addition to those numbers, 30% found wrong information about a business on the business' online listing or in an online directory and 24% found conflicting information on the identical business on different online directories and listings. Remember, 80% of people lose trust in your small business when they find inaccurate or inconsistent information online and 30% or more have actually experienced it firsthand.
If you think most of your customers find your location by phoning you, you're wrong. 54% look you up online before starting their journey.
That's right, 54% of your customers search for your address and location details online. Only 24% of customers will call you to get directions or your address before heading your way, and only 10% will just walk or drive to where they think you might be located. Times have changed rapidly and consumers have changed their habits. If you're ignoring your business listing in online directories, then you're losing customers and you can't blame the directory or a listing site, including Google for problems with your online business listing.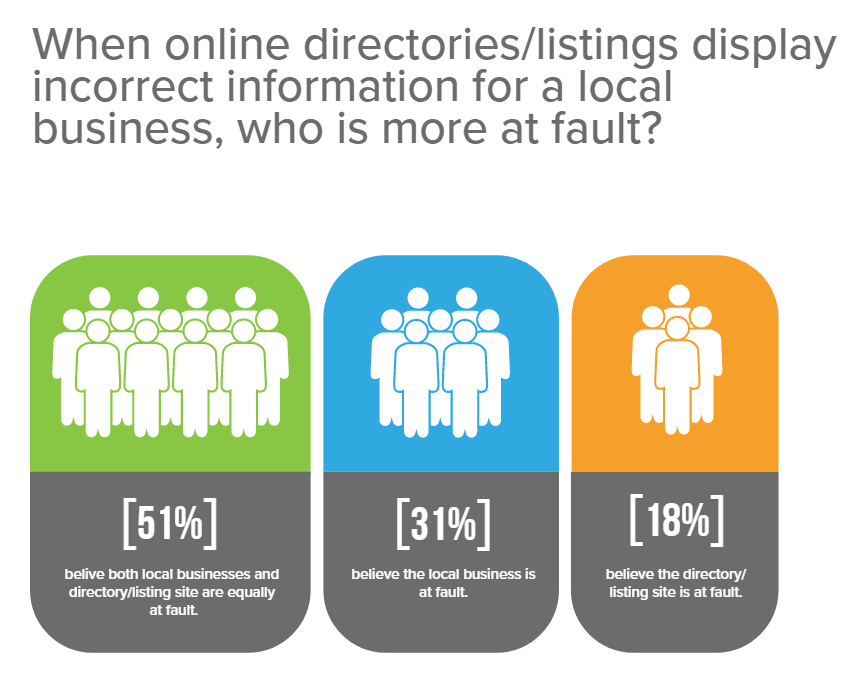 In fact, only 18% of people believe an online directory or listing website is to blame for inaccuracies and inconsistencies in your online listings.
That means as a business owner, you have to stay on top of every place your business has a listing online and it could be a huge undertaking because of the number of online directories. Furthermore, Google, the main search engine is constantly making changes to all their platforms, including adding new features to their Google My Business platform. If your listing there isn't up-to-date or is inaccurate, how much confidence will potential customers have in you?
43% of people will call you to confirm your address if they can't find it online, but what if they can't find your correct phone number?
It's great that 43% of consumers will call you if they can't find your address online, but between 12% to 17% will either just go to a nearby competitor, look online to find another business, or just stop searching for your business altogether. And just because it seems like less than 20% will go to one of your competitors when they can't find you, according to the study, 93% of consumers get frustrated when they find incorrect information in online directories and as we already mentioned, as many as 80% of them will lose trust in your business if your listings are inaccurate or inconsistent.
When asked if finding incorrect information in online directories would stop them from using a local business, 62% of women and 78% of men agreed that it would.
As you can see, incorrect information in your business' online directory listings goes far beyond not being able to find your address online. In fact, even when broken down by age groups, between 60% and 73% of people agree that incorrect information would stop them from doing business with you.
Depending on your business, the number of directories can number 200 or more and could go beyond the larger sites like Google, Bing, Facebook, Citysearch, and Yelp.
With so many online directories, you might need some help to ensure your customers are always finding the right information about your small business online. But even if you're confident you can stay on top of all of them, it's imperative you make sure your business name, address, phone number, and website URL are consistent across each directory and listing site and that you stay on top of any additions or changes in features on each site to ensure your listings are always up to date.