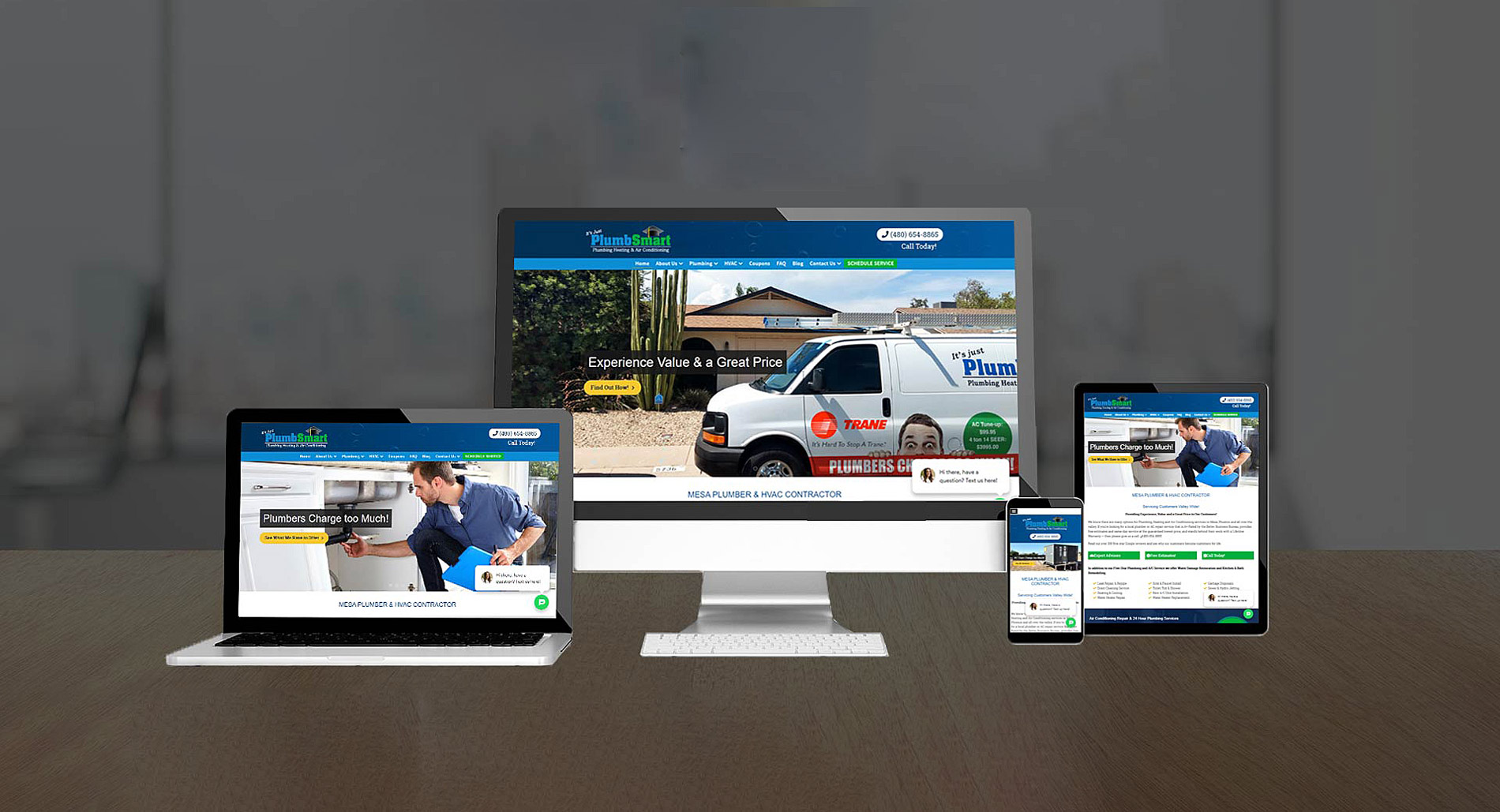 Digital Marketing for Home Service Companies
Several studies show that close to 80% of consumers research a business online before making a purchase decision. And 97% of local customers use the world wide web to search for products and services nearby.
If you're not on the internet, are you even visible?
And if you think that because you're a home services business, you can rely on word of mouth referrals alone, think again. 82% of smartphone owners use a search engine to find a local business, and 50% of mobile searches result in some form of contact, such as a phone call.
If you're a plumber, electrician, locksmith, or another type of service area business, you need to be where your customers are – online.

6 Ways Marketing Your Home Services Company Online Helps Your Business
Digital Marketing Expands Your Reach

As a service business and not a brick and mortar retail storefront, your customer base can be spread out across a wider area. Digital marketing means you can reach customers across multiple towns, over an entire county, or even statewide and beyond.

It Helps Foster Customer Relationships

Digital marketing over the web gives you access to more ways to foster, build, and maintain crucial customer relationships than traditional marketing methods. A customer might discover you through one of your blog posts or explainer videos. Once they become customers, you can keep them updated on special offers or maintenance reminders through emails or newsletter subscriptions.

It's Convenient

The around the clock accessibility and convenience of the internet means people can find and communicate with your organization anytime, day or night. They can request a service-call at midnight or noon, including while you sleep.

It Allows You to Personalize Offers

By marketing your home service business over the internet, you can create customer profiles from many elements, including:

Data on websites they visit
Purchases they make
Topics they're interested in.

You can then use this information to create highly targeted campaigns.

It Enables You to Take Advantage of Social Media

With 33% of consumers preferring to contact your company via social media, and all the opportunities to build relationships with customers there, including it in your digital marketing arsenal is critical. Furthermore, according to an article by the Harvard Business School Executive Education, social media marketing can increase sales by as much as 5%.

It's Cost-Effective and Saves Money

Digital marketing costs significantly less than traditional marketing. For example, the cost per 1,000 impressions for a direct mail campaign can run you as much $57, but only about a quarter for the same number of impressions on Facebook.
What are My Options for Digital Marketing?
BizIQ provides your service based company with digital marketing solutions that help you do the following:
Attract and retain more customers
Drive traffic to your website,
Ensure you dominate your competition.
Website Design & Development
Your company's website is at the heart of your digital marketing strategy. Every other aspect of your digital marketing endeavors hinges on your site, including
Your SEO efforts
Your social media marketing
Your Pay Per Click (PPC) advertising
Your brand management
And More
That's why a professionally developed and designed website that illustrates what your business does is critical.
Search Engine Optimization
What good is a well-designed website if it doesn't appear in search results? Useless, right. You probably already know that SEO is indispensable for getting found online. But when it comes to marketing your home services business, there are so many more reasons to include it in your online arsenal.
SEO Drives Organic Search Traffic

The majority of consumers look for products and services on search engines, and over 75% of those searches happen on Google. If you add YouTube, the number jumps above 90%. Organic Search Engine Optimization helps take you to the top of the results.

SEO Builds Trust and Credibility

One of the most important aspects of SEO deals with establishing and maintaining the online authority of your brand and your content. It takes time, patience, and time-tested tactics to build-up trust and credibility.
Experienced SEO's do this by

Using Link Building to create a high-quality backlink profile
Effective and clean user experience and clear site navigation
On-Page SEO to improve content visibility in search engine results
Technical SEO and coding to help improve machine learning signals

Local SEO Helps Increase Traffic, Engagement, and Conversions

As a service area business, you need the help of effective local SEO to appear in more mobile search results in the areas you serve. Besides your optimizing your website to appear in local search results, search engine optimization for local home service businesses focuses on things like

Your Company's Citations
Your Organization's Online Reviews
Managing Your Business' Reputation
Optimizing Your Google My Business Listing

SEO Is Always Evolving

Google continually updates its algorithms. As a result, SEO continues to evolve, as well. To maintain results and stay ahead, you need the aid of an SEO company that knows how to adapt, so your site is always optimized.

SEO can be Inexpensive

Investing in Search Engine Optimization is one of the least expensive things you can do to gain customers, increase website traffic, and acquire online authority.

No, it isn't free. But the long-term returns on your SEO efforts will reward you with more revenue for years.

SEO Results Are Measurable

Although not as clear cut as the data from your PPC efforts, you can still measure and analyze the results from your search optimization. Tools like Google Analytics and Google Search Console help you and BizIQ's team of expert SEO professionals determine what's working, what needs to change, and what can be improved.
PPC
Your service business needs PPC advertising. Plus, as a home service business, your options for advertising on Google local search include both standard digital advertising and Google Local Services Ads, sometimes referred to as Home Services Ads.
At BizIQ, our PPC professionals know how to bid on the best keywords, as well as write copy that generates a direct response and helps you convert leads into customers quickly. Ask about Google Ads, Facebook Ads, and Microsoft (Bing) Advertising.

Social Media for Home Service Businesses
Leveraging social media to market your home service business is a no-brainer. For example, according to Pew Research, nearly 70% of adults use Facebook, and almost 75% use YouTube. BizIQ's social media consultants help you focus on the social platforms where your customers hang out most.
So, why should you consider social media for your organization?
Social Media Helps Improve Your Customer Service

Sites like Facebook and Twitter are often the first place your customers go when they have a question, problem, or concern. If you're not monitoring your social profiles and pages, they could feel ignored. BizIQ helps you monitor social media for brand mentions so you can respond to comments in real-time.

Social Media Increases Brand Awareness

Your company's social media pages and posts are the perfect way to communicate directly with customers and display your brand's unique personality. Consumers will see the human side to your organization and feel like they have insight into the inner workings of your company.

Social Media Makes Reputation Management Easier

Social Media allows you to respond to any negative review or complaint in a public way, thus showing potential customers that you care about their concerns. It also allows your regular clients to help new ones, and loyal customers to become brand cheerleaders.

Social Media Helps Foster Trust and Credibility

Consumers want to do business with companies they can trust. When you're a business that goes into people's homes like a plumber or air conditioner repair professional, that trust is critical. Social media marketing helps you stand out from your competition and makes you appear more authentic to your clients.

Social Media Provides More In-Depth Customer Insight

Ever wish you could eavesdrop on customer conversations? Social media allows you to do just that. Your social media presence helps improve engagement with customers because of the following:

Customers can comment on your posts
Customers can participate in groups you create
Customers post to your social media pages

All of these things provide you a more in-depth insight into their pain-points, questions, and concerns.

Social Media Aids Your Content Promotion Efforts

The blog on your website and the videos on your YouTube channel, plus your SEO efforts, are great ways to display all your fantastic content. However, social media marketing allows you to take your content promotion efforts to the next level and beyond. BizIQ's social media marketing packages help increase awareness of every new piece of content you publish and drive more traffic to your website.

Social Media Increases Your Customer Engagement

Because you can communicate directly with customers over social channels like Facebook, you increase customer engagement not just on those profiles but with your brand and on your site.

Social Media Drives Website Traffic

Marketing your business on social media sends more traffic to your website in two ways. Links to blog posts and other site content sends customers directly to your site. Plus, social signals are becoming more and more critical for SEO as Google ranking factors.
Brand Management
There are two essential elements of online brand management, your company's reputation, and your home service business' citations in local online directories. BizIQ has helped thousands of local service businesses in both of these crucial areas.
Reputation
If a picture paints a thousand words, then a negative Google review must feel like it destroys a million potential relationships for home service businesses. After all, you get trusted to enter customer homes, sometimes when nobody is there. But with BizIQ's help, those occasional bad reviews don't have to be a disaster.
Every BizIQ digital marketing package includes reputation management services, including review monitoring, so you stay on top of every review – good and bad. We can even teach you how to get more positive reviews from customers.
Citations
You might worry about your search engine rankings. Still, for local service businesses, half of all local customers start their search on directories and mobile apps, including Yelp, Google My Business, Yellow Pages, Facebook, Angie's List, Home Advisor, and more.
BizIQ helps your home service business set up profiles on the local directories and apps relevant to your industry and customer base. Plus, we ensure that all your online citations are up to date and accurate.
Types of Home Service Businesses We Help
Home Service Businesses have unique digital marketing needs. Your customers trust you to go into their homes to clean, to make crucial repairs, to make them secure down to the very locks on their doors. When you entrust your digital marketing to BizIQ, you're partnering with one of the most trusted companies in the business, as evidenced by hundreds of positive Google reviews.
Local Service Companies We Cater To
At BizIQ, we help the following types of Home Service Businesses and more!
HVAC
As a heating, ventilation, and air conditioning professional, your customers rely on you to keep their homes warm in the winter and cool in the summer. Leave it to BizIQ to take your digital marketing from lukewarm to hot and on top.
Plumbers
As a plumber, you fix leaky pipes. At the same time, BizIQ plugs the holes in your digital marketing strategy with a pipeline of digital tools that includes SEO, social media, reputation management, and more!
Electricians
Homeowners trust you to keep their wiring safe. BizIQ zaps your website to the top of the search results, your citations accurate, and keeps you from being shocked by the competition.
Locksmiths
As a Locksmith company, you have the challenge of standing out from shady lead gen businesses disguised as Locksmiths. BizIQ has the know-how to unlock PPC tools like Google Local Service Ads, as well as bust through all your SEO barriers.
Garage Door Services
As a Garage Door sales and repair company, you make your customers' lives simpler with automatic doors and the remotes that control them. BizIQ's smart digital marketing can open the door to a host of solutions so you can focus on what you do best.
Landscapers
Whether you're a tree trimmer, irrigation specialist, or landscape architect, BizIQ can help you prune your digital marketing costs with effective website design, expert SEO, social media marketing, and more.
How Do I Get Started?
Taking your digital marketing to the next level with BizIQ is simple, and takes just three easy steps.
Get a Complimentary Website & Digital Strategy Analysis
It all starts with a free, no-obligation website and digital strategy analysis from a BizIQ digital marketing specialist.
Review Findings & Opportunities
After your analysis, your BizIQ digital marketing specialist will answer all your questions and review their findings. They'll also guide you towards the best digital marketing packages for your home services business.
Sit Back & Relax Knowing the Pros are at Work
The ultimate step happens after you and your BizIQ digital marketing specialist have designed the perfect digital solution for your organization. At that point, you can go back to helping your customers while the BizIQ pros do all the work.