Small Business Local SEO Services
If your business is a small, mom-and-pop sort of establishment, local SEO is the cornerstone of managing an excellent online presence. Unlike organic SEO, a local campaign is all about the little details; helping companies snag nearby customers who aren't looking to go far for their needs.
What is Local Search Engine Optimization?
Google uses an array of frequently changing algorithms to ensure that certain types of searches return results that take the user's physical location into account. This happens whether the user is explicitly searching using geographic terms ("restaurants near me" or "Thai food in Phoenix") or not. Many types of businesses implicitly suggest that they provide local goods or services ("nail salon"; "HVAC"), so engines will automatically use the searcher's coordinates when these types of queries are typed in.
In the early days of Google, searches like this were relatively limited, since users were only able to perform them while they were at home on their desktops. Thanks to the ever-increasing commonality and capability of smartphones, however, these kinds of digital queries have become routine for a great many people – who can now look for nearby businesses whenever they want, wherever they are.

Why Does Local SEO Matter?
Local SEO is all about optimizing your chances of showing up at the top of a search page when people are looking for a company close by. Recent studies suggest that buying habits have become increasingly reliant on searches that use regional SEO, as these statistics demonstrate:
46% of Google searches are looking for local information. (Go Gulf, 2019)
72% of consumers that search locally end up visiting a business within five miles. (Hubspot, 2020)
97% of people learn more about local businesses online than anywhere else. (SEO Tribunal, 2019)
88% of searches for local businesses on a mobile device either call or visit the company within 24 hours. (Nectafy, 2019)
18% of local smartphone searches lead to a purchase within a day, whereas only 7% of non-local ones do. (Think with Google, 2014)
Search results send 70% of consumers to a physical store. (Joel House Search Media, 2019)
92% of searchers will pick businesses on the first page of local results. (Bradley Shaw, 2019)
4 out of 5 consumers use search engines to find local info. (Think with Google, 2014)
And this trend in online shopping habits shows no sign of slowing down: mobile queries that include such terms as "where to buy" and "near me" have grown over 200% in the last two years alone. Who knows where we might be in two more, as phones grow only more advanced? With technology becoming ever more integrated with our everyday lives, it would be ill-advised for any competitive business to ignore such a powerful tool to attract new customers in the coming decade.
How Much Does it Cost?
Pricing for local SEO management can vary widely between companies, and there is no true industry standard for small business SEO services. The actual price you'll pay will depend on a number of factors like your business goals, the services needed to achieve those goals, and even the trustworthiness of the SEO company you choose to work with.
In general, most packages across the industry will fall into one of three categories.
Automated Services
These are often the cheapest bundles that you'll find. They usually require a yearly fee instead of a monthly one, and as appealing as that may be, the services they include are minimal and largely automated. These kinds of area-specific SEO packages typically involve simply feeding your business info to data providers and directories to ensure that the essential details stay consistent across the Internet. Since the work is handled automatically, however, it's easy for information to go unpublished or unchanged if the program runs into even minor conflicts with a particular website's coding or formatting. The asking price can be anywhere from $84 to $499 per year.
Small-Scale Campaigns
Small-scale local packages typically provide businesses with a few more services than the automated campaigns mentioned above, but are still relatively bare bones. These kinds of packages are often suitable if your company is just getting started. They don't contain a whole lot of bells and whistles, but they can be useful for making sure the essential listings are up-to-date and your business is on the map, though they won't do much in terms of moving your business up to the prime locations on a search engine results page like the coveted Local Pack.
Comprehensive Local SEO
As the name suggests, comprehensive local SEO campaigns include all of the essentials, plus a host of other services designed to not only get your business on the map, but help you dominate it. Pricing is highly dependent on the company you work with, and can reach well into the several thousands of dollars per month. Some SEO agencies that offer local services, like BizIQ, offer all-inclusive packages that give a small business everything they need, including website design and maintenance, link and citation optimization, mobile SEO, online review management and more. These marketing packages set you up for long-term success and get you top-ranking results.
The above is only a general breakdown. Of course what you're actually getting for your money will depend on who you're working with, and many local marketing companies prefer to keep their pricing under wraps. At BizIQ, we believe small business owners can only make informed decisions for their businesses when they have access to information. You can easily compare the pricing and services for all of our Local Marketing Packages right here on our website.

Is a Local Campaign Right for My Business?
While a local SEO strategy, specifically citation management, should be a part of every solid marketing plan, optimizing for local searches is absolutely vital for certain types of businesses.
Generally, it's best for those companies that make their living off of the clientele who live close by or within a confined geographic area. You'll experience the greatest benefit from local services if:
You make most/all of your money from customers physically visiting your brick-and-mortar address.
You travel to customers within a relatively small geographic region, such as a city or a handful of nearby counties.
Truly local businesses thrive with a locally-charged SEO package, but if your scope and sights are a bit broader, organic SEO may be more a more appropriate investment for your business. Ask yourself the following:
Does your business sell products online?
Do you maintain many locations across a large geographic area – multiple states, or even across the country?
Do you want to rank for particular search terms on a national (or even international) level?
If you answered "yes" to any of these questions, local promotion should still be a fundamental part of your marketing strategy; assuming you cater to local customers. You'll need to look into organic SEO, eCommerce SEO, or multi-location SEO.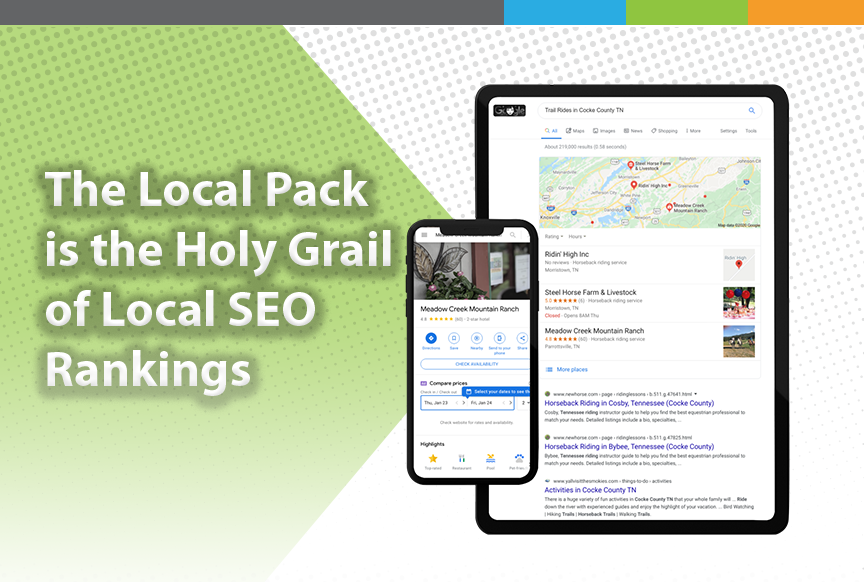 What Exactly are Local Search Results?
"Local" search results look different from organic ones. As mentioned, when searches are done for specific goods or services physically near the user, Google automatically adds geographic location to the queries. And because engines understand that you want suggestions based on your coordinates, they will show what's known as a "search engine results page" (or SERP): a map-based selection of relevant businesses at the top of the results that highlight pertinent company information, including addresses, hours, and phone numbers.
The Holy Grail of visibility with SERPs is known as the "local pack" or "three-pack": that little window of three nearby companies that appear beneath a map. A link opens up other results (there's probably more than three relevant companies near you), but this trio is the most visible and convenient to searchers, and therefore the most effectively advertised. The information that gets displayed in these results comes from your Google My Business listing (something else that we can help you optimize) — but that listing needs a lot of work done elsewhere on the Internet to ensure it gets into a top-three spot.
What Do I Need for a Successful Local SEO Campaign?
Like any SEO campaign, effective local market-based promotion requires a broad web of different elements to be updated and managed. All of these details interact with one another and feed together to get you pushed higher up a search results page. Some parts of this particular puzzle include:
A fully-optimized website, localized with city info and preferably featuring articles and other outside content that references your business.
Citation and listing management to guarantee directories keep your information consistent.
A good reputation: genuine, honest reviews that showcase your services and prove to search engines that your information is trustworthy and useful.
Being active and detailed on social media platforms, showing that you're well-connected with customers.
And, of course: content! Whether it's in a Facebook post, an official website page, or a write-up by a third party, content in its many shapes and forms weaves together a tapestry that pushes your business to the front of a very large digital crowd.
What Are the Best-Known SEO Practices?
So what needs to be done to get your local game up to snuff? Like any kind of credential-building online campaign, a multitude of content needs to be improved and continually revised and maintained to get you on top:
Build Location Pages for Your Business
Your website should have separate pages for each of your business locations that condense all of the most significant info into one, well-written source. You can base your location on your physical address, where you actually do your work, where your customers are, or where you're simply trying to drum up more business. Optimizing these pages includes both visible content (in-depth copy, calls-to-action, and product images) and behind-the-scenes details (meta descriptions, schema markup, and alt tags).
Build Authority with Links
It's essential to have other parts of the internet linking back to your own content to establish authority and trustworthiness. Google's algorithms for ordering results are routinely being updated, but one constant is the importance of backlinks. It's not just about quantity, but quality: you want to earn "natural" links that come from trustworthy, authoritative third parties that use properly designed anchor text. Local listings and citations on other websites are critical to this, because so long as your info is consistent, these outside sources will create a foundation of links that feed back to your website, pushing it up in organic searches and SERPs alike.
Continually Optimize Page Copy
On-page SEO is the optimization of website pages to improve how they rank in search engines, which means they must be publishing relevant, timely, high-quality content that has been correctly organized and coded. Important elements include:
Copy that emphasizes expertise, authoritativeness, and trustworthiness ("E-A-T") in its subject matter and is naturally rich with language optimized for engines.
Exciting headlines that grab readers' attention.
Title tags that clearly describe the focus of each page.
Meta tags that provide a description of a page's topic.
Header tags that make your content easier to read and more visually appealing.
Avoiding "keyword cannibalization": unintentionally causing your pages to compete with one another by having them rank for the same keyword.
Editing older content to keep it timely and accurate.
Quality media that engages readers without reducing page-load times.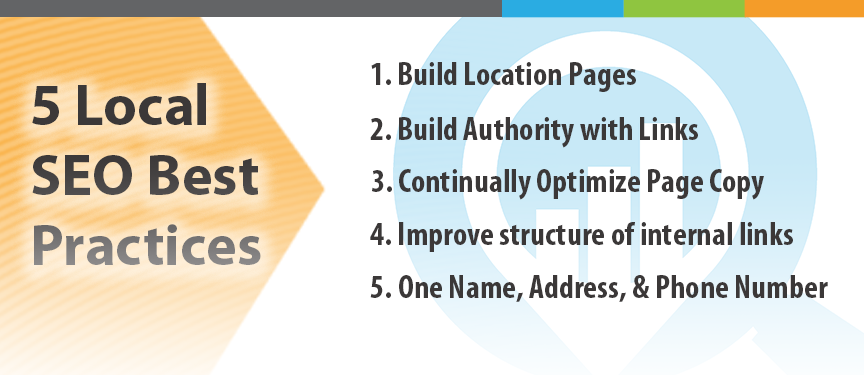 Improve the Structure of Internal Links
URLs should be simple, relevant, compelling, and accurate, using easily understood words rather than ID numbers or codes. They should also be definitive, but concise: a search engine and user alike should be able to guess at the content of a link from the URL alone. Hyphens should separate words, and everything should be kept lowercase to avoid duplicates or the possibility of tracking issues.
Keep Your Name, Address & Phone Number (NAP) Consistent
The simplest but arguably most important element. Use your company's full name and address; formatting should always be the same. If your business is going to have an "&" in it on your sign and the top of your website, for instance, it should always have it, not sometimes switching to "and" when it shows up on your Facebook page or Yext listing. It seems like a small concern, but effective SEO requires you to keep those details matching across the many, many different pages displaying the information. If an engine finds conflicting info, no matter how minor, it may signal a company's details as potentially untrustworthy or inaccurate.
How to Measure Local SEO Success
Whatever package you end up putting money into, you should always make sure that the reports you're getting back are clear, transparent, and useful. You want to see hard data and numbers that show what's happening with your website's traffic, the number of leads you're getting in a month, what kind of revenue you're generating, and where Google is ranking you in result pages.
Ideally, you'll be able to access this information anytime, whether you're getting metrics about your campaign in particular or using a broader resource that helps you discover popular keywords in your area or track websites that link to your competitors' pages. And these details should be concrete and specific, allowing you to trace peaks and valleys in your success rates that go beyond a simple ranking number or "you're doing great" message.
BizIQ gives every client access to data that helps justify your spend and we do it in the form of your very own client dashboard. Your account includes website analytics, insights from your Google My Business listing, your ranking position on Google, and an overview of the directories that are displaying your company. Learn at a glance how many times your listing has been viewed, how frequently it's come up in a search, and what's being clicked on by potential customers. How many people have followed a link to your website? How many requests have been made for directions to your address? Get the details any time, or opt into regular email reports that will keep you up to date on your online presence.
We get our clients the results they desire. Period.